Anker SoundCore 2 is the best mini Bluetooth speaker on Amazon under 40$ and a much popular brand.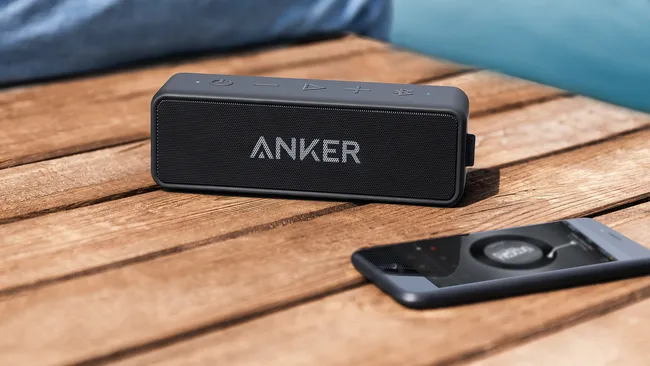 Anker is the global leader in charging technology. This includes wireless charging, car charging, and our best-selling portable and wall chargers. Anker is pioneering Power Delivery technology to charge phones, tablets, and laptops at unprecedented speeds
One of the best innovations of Anker is mini Bluetooth speaker under 40$ is Anker SoundCore 2 . Either you are looking for cheap Bluetooth speakers with good bass or Anker best mini speaker. Its size is small with a pretty loud sound, water-resistant, and long-lasting battery life. What else you need–and it is perfect for both home and outdoor use. Most important Anker SoundCore 2 is a wireless speaker and you can use it anywhere.
Actually, Anker is a name of brand is associated with portable chargers and accessories, but in past years come into industry such as wireless speakers. The SoundCore 2 is, unbeleiveable, the follow-up to the original SoundCore.
Build & Features of Anker SoundCore 2?
The update obviously aims to please something more than our ears. The introduction of SoundCore 2 is even more impressive than its successor.
The Anker SoundCore 2 is coated in flexible, but elastic rubber, and although you can either like or dislike the 'skin' feeling, it lets the SoundCore 2 obtain a completely waterproof IPX7 ranking, meaning it can last for at least 30 minutes being totally immersed in water at a deep of one meter.
When on, the led indicator is white, blinking red when the battery is low and stable red when charging. Generally, the Bluetooth pairing light at another side is blue. For speaking to Siri , Google Assistant or for making hands-free calls, there is a designed-in speaker, plus a 20 m Bluetooth distance.
SoundCore 2 is a more stable design in general and can accommodate an owner who enjoys an active life.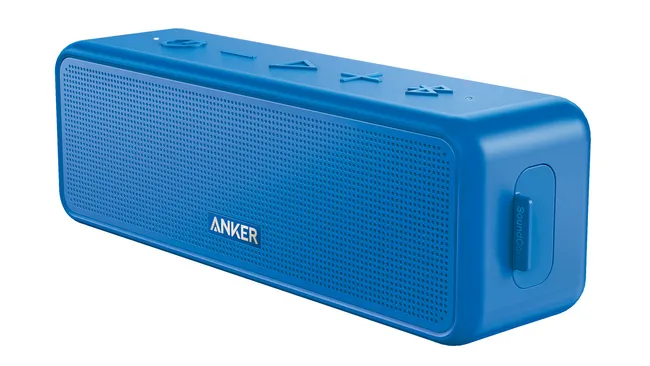 What does your Anker SoundCore 2 come with?
Security and great service is the most valuable thing that has come with the Anker SoundCore 2.
Weight: SoundCore 2 is significantly bigger and stronger, and much sufficient to be heard. Like its previous iteration, it's just as compact.
Waterproof: Soundcore 1 was not water resisitant previously but Sound core 2 come with water resistant which is great feature and improvement come along.
Warrantee: You're being protected
You get a promise of 18 months and the best customer service anywhere.
If something does not look, sound, or work the way it should, please don't hesitate to take advantage of this.
For qualifying problems, Anker really does give hassle-free returns. It is amazing to get a year and a second to investigate issues.
Click here to check it out on Amazon.
Anker SoundCore vs. Anker SoundCore 2
We have checked out both models of Anker Soundcore 1 vs Anker Soundcore 2. Here is the differences we found:
Watt: The watts in SoundCore 2 were doubled by Anker. To increase the deep bass sound at larger volumes for an improved audio experience, they also introduced BassUp Technology.
Battery: Both model has great and unbeatable battery lifetime. They use a system with a 5200mAh lithium-ion battery. From this powerhouse speaker, you get 24 hours of playtime and up to 500 songs.
SoundCore 2 Price?
Anker Soundcore 2 price is definitely good and affordable which is 40$. It is desirable to spend and you will not regret it after purchasing. The most important is, it is under 50$. We can say it is the best speaker under 50$.
How to pair Anker soundcore 2?
In your phone settings, you only choose Bluetooth, find your device, click it, and when your Anker SoundCore 2 is turned on, your device pairs automatically.
Pairing is shown by a flickering blue light, and if matched, the light turns blue. In a shot, you're able to play your favorite music.
Why it is best?
You love your music so you want to take it everywhere you go with you. Trying to cook in the kitchen, landscaping outside, or sitting out on the beach. I mean almost everywhere!
You deserve to get a reliable speaker that can support the spirit of adventure. If that fits you, the best fit is Anker SoundCore 2.
You enjoy enjoying yourself for hours. So, the Bluetooth speaker's battery life is critical.
Conclusion
Having said that, SoundCore 2 is always worth your time. It may well be at the insanely-affordable top of the business and it's going to take some pretty serious violence, thanks to the IPX7 score. Visually, compared to some of its competitors, it is inoffensive, stylish even.